Now is a Great Time to Automate Your Finishing Process
April 12, 2023
By Hope Dollarhide, Project Engineer, Automotive Component and Industrial Paint, FANUC America
Quick. Quality. Inexpensive. You can have two, but you can't have all three. We've all heard the phrase, but what does it mean when talking about automation – and more specifically about automation in the finishing industry? It means that the quality and success of a paint automation project is going to depend on what company you select as your automation partner, their ability to audit your process and make recommendations that will suit your business needs.  Easy or quick does not necessarily mean quality and quality does not necessarily mean it was quick and easy.
Since 2020 it has been a rollercoaster with the pandemic, challenges in the economy, a massive labor shortage and supply chain chaos which has resulted in a huge increase in the demand for automation in virtually every industry. Let's talk about the job market. Currently there are more jobs than people, which means workers have more freedom with their job selection. This coupled with the large number of people leaving the workforce has created a nation-wide labor shortage causing companies to struggle to meet production goals. The finishing industry in particular lacks skilled manual sprayers to keep up with demand since workers are retiring at a record pace.
The industry is both fortunate and tormented, on one hand blessed with the increased activity and demand for products in the market but afflicted by not having enough workers to handle the increased business.  Because the issue is now, not in a few years, companies want a solution today. How do we solve the shortage of manual sprayers? What will you do if all your manual sprayers retire? Why can't we find young workers who want to be manual sprayers? These are real dilemmas for painters and coaters and based on the large number of companies who visited FABTECH, they need immediate solutions before labor shortages impact their ability to remain viable and competitive.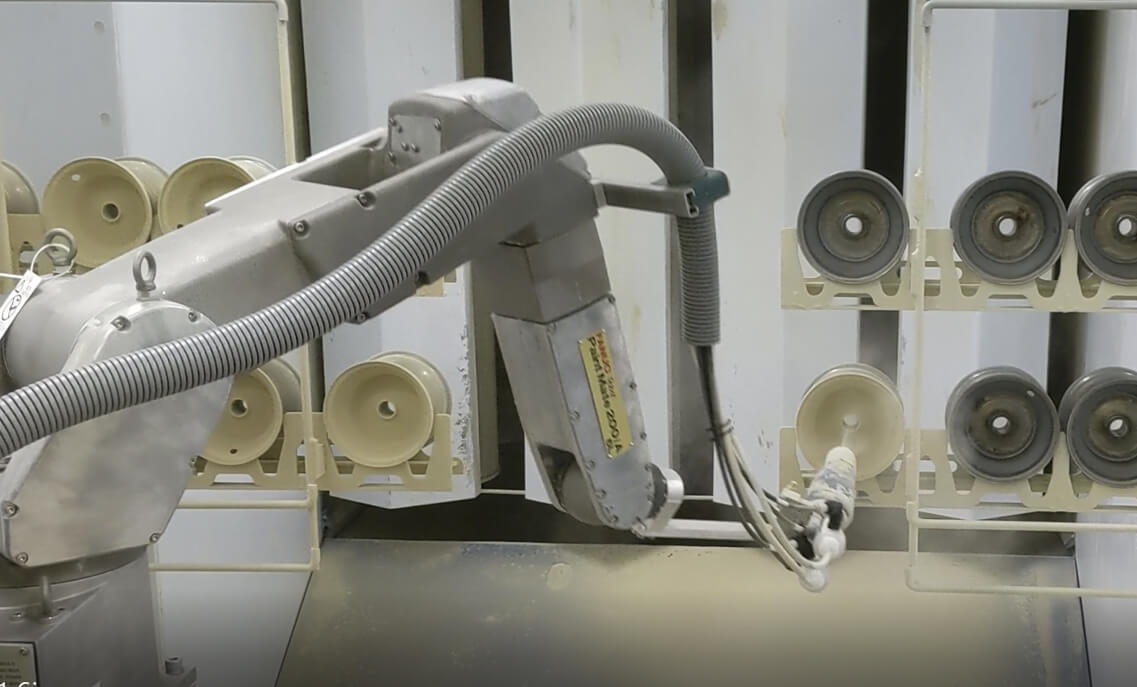 Take a Closer Look at What Automation Can Do
A viable solution could be to invest in automation. Automation is not limited to just robots; it also includes simple machines and reciprocator spray technology. A lot of paint and coating automation lines include reciprocator systems and/or paint robots. A reciprocator machine can be a great investment for manufacturers who have high-mix parts with simple geometry that need to be painted. These types of manufacturers are okay with broad spectrum paint applications and are happy to make a large investment in reciprocator technology.
When it comes to finishing robots, traditionally low-mix, high-volume applications have been the bread and butter of the industry.  For example, a plant that paints 1000 of the same tractors or trucks all day long is a great application, primarily due to a robot's repeatability.  Today, however, robot technology has grown and expanded with new programming techniques.  These advancements have further simplified the process and allow customers with high-mix, low-volume parts to enjoy the benefits that robotics can offer.
Launching automation into a paint or powder coating facility can provide a multitude of improvements, such as:
Increase part throughput and quality of the finish.
Decrease the amount of material usage for painting and coating.
Address the labor shortage challenges.
Enhance repeatability by finishing parts the same way every time.
The largest hesitation of manufacturers with little to no experience with automation is the cost associated with installation. However, by selecting to work with an experienced and knowledgeable automation supplier who can provide a detailed ROI, those doubts are easily resolved. In fact, many plants have been able to achieve a quick ROI based on paint and material savings alone. Robots are also able to work full time 24 hours, 7 days a week, running the same programs over and over with no issues or fatigue. This not only reduces the need for manual labor, but significantly enhances quality.
A Knowledgeable System Integrator is Essential
The key is to select a system integrator who specialize in finishing applications and has extensive knowledge about robots. There are many companies out there that specialize in providing automation equipment but finding one that supports a robot in their lab for demonstrating paint and powder coating applications is worth a second look. FANUC America has established relationships with a wide range of very capable robotic system integrators, paint suppliers and application equipment companies who are ready to assist.

Latest Automation Technologies Helping Painters and Coaters
Once new users realize that it's possible to automate their existing paint booth, they need guidance regarding robot programming and operation.   Some say there is not enough information available about what robots can do to improve painting and coating facilities. Or they believe that it would only complicate their process.  It's so important to connect with a knowledgeable paint automation expert to provide accurate information and guidance. 
For example, robotic programming may appear intimidating or daunting, especially to those who have never tried it. After meeting with a company like FANUC or one of its Authorized Authorized System Integrators Integrators (ASI), painters and coaters will learn that today's user interface is simple and there are many assistance and easy-teach options available.  Once employees are properly trained, a decent painter can become an even better paint robot programmer.  Making the switch to automation offers your current and future employees a better environment, increased opportunities for workforce workforce upskilling and higher wages.
Easy-Teach Tools
There are several easy-teach tools that assist in robotic programming. Easy-teach tools consist of several techniques and technologies that can minimize programming time. Two of those tools are offline 3D simulation programming and Scan-to-Path artificial intelligence.
Offline 3D simulation is PC-based and allows for manufacturers to program the robots in an offline setting. This means that the line does not need to be down to program. The controls and operation of the robots on the PC mirror the operations of the robot in the real world. Offline programming allows users to put CAD files in the software, and instantly calculate a paint path. From there, users can fine-tune the process and then adjust after using film build simulations to check the result. This tool is fantastic as it allows the user to adjust the program to their wants while not causing downtime.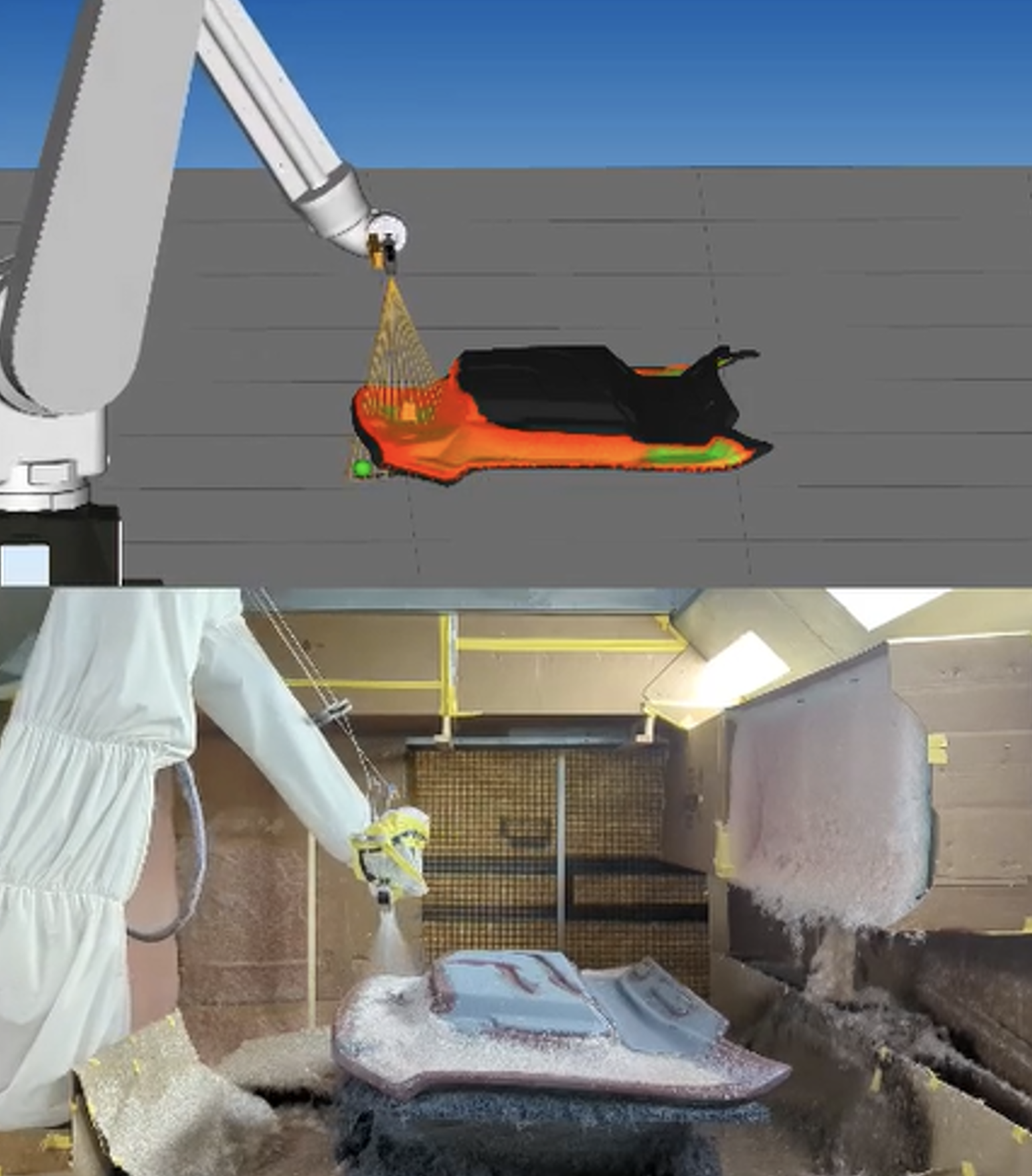 Scan-to-path is different from offline 3D simulation programming because it is completely based on artificial intelligence (AI). The system uses cameras and scanners to scan parts; either on a moving line or as a batch or stop station. The AI is then able to take that scan, build a 3D model, smooth it out, and generate a paint program. The robot can take this program and play it back in real time. This eliminates the need for manual programming. This is an excellent application for manufacturers who need instant and quick paths for high-mix parts.
There are other options for quick programming including lead-through-teach or hand guided programming. Lead-through-teaching is attractive because the best manual sprayer can grab the robot and guide it along the path that they think is best. This is appealing to painters and coaters that are first-time automation users because they see that the operation of the robot is much easier than expected. However, today's programming options – either offline in PC-based simulations, or navigating the robot's teach pendant are simple and intuitive and widely accepted by workers who are comfortable using teach pendants and PCs.